Commercial Glass Service & Products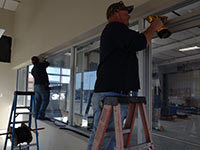 Centex Quality Glass provides a commercial storefront service to a wide variety of contractors. We work with individuals, small contractors, and nationally known contractors. We are well known for "getting in then getting out" and working around other trades to ensure the most efficient schedule.
We will provide estimates for commercial jobs. We do this by completing our take offs from the plans and specifications provided by the contractor. We can receive the plans on paper, or in a PDF file in email. We can quickly review a set of plans and determine if it is something that we will bid. We can share with a requester the reason why; resources, not wanting to over commit, or technology like curtain walls that Centex Quality Glass don't install. This will allow the requestor to make the appropriate plans accordingly.
Storefront Doors & Storefront Frames
Storefront Doors & Storefront Frames
Centex Quality Glass uses a several major suppliers for storefront systems. These include CR Laurence U.S. Aluminum, Vista Wall, Armalite, and Columbia Commercial Products. Our specialty is the small to medium jobs; restaurants, strip centers, small office buildings, remodels, and other similar size jobs.
Not only does Centex Quality Glass install new doors and frames, we will repair doors. When called, we will make door adjustments if possible. This saves our customers money since we don't need to replace parts. However, if parts are needed, we will provide an estimate and then do as the customer needed. The parts we will place include handles, hinges, pivots, closures, and even the door glass. While we don't do emergency board up, we do prioritize the replacement glass for those doors that need to have those boards removed. We can even replace doors using the same glass, closures, and frame to help save cost for our customers.
Windows and Glass
We can provide 1/4" Glazing (plate glass) with a variety of glass selections (Gray, Bronze, Clear, Laminate, etc.) as well 1" IGs. For 1" IGs we will determine the type and color of glass the make sure the replacement matches the existing glass installed. For new construction jobs, we will make sure the glass match as specified. Centex Quality Glass can also provide window that are in pattern shapes; commercial windows with arch tops, circles, and ovals.
Contact us for a Free Estimate!