Custom Built Showers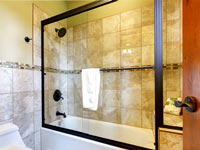 There are several styles of showers available for installation. Centex Quality Glass provides both Framed and Frameless Showers. All of shower units are measured, order, assembled, and installed to fit your exact shower. We are not like many other glass companies or big box stores that have a "One Size Fits All" shower unit. Not only will you get a custom shower, it will be with extremely competitive pricing. Centex Quality Glass uses one of the best clear silicone when waterproofing the area where water may escape, making sure not to deter from the look be achieved.
Frameless Showers
Shower Door Only
Inline Showers
Inline Shower with Return Panel
Unique Frameless Showers
Slider Showers
Glass and Hardware
Framed Showers
Frameless Showers
These frameless showers, also called Heavy Glass Showers, are made of 3/8" or 1/2" Tempered Glass. Centex Quality Glass designs the showers to use the minimal hardware needed, including NOT using a header in 99% of the cases. We believe the less metal a custom frameless shower uses, the more beautiful it will turn out. All of our glass used will have factory polished edges, giving an elegant look and feel. We also measure and have the glass cut out of square so that it follows the walls the best we can, making the gaps as small as possible. Another great characteristic of frameless showers is the hinges allow the door to swing both in and out. So when someone is getting out of the shower, they can pull the door in, allowing the water to drip inside shower.
Shower Door Only
This is when just a door is installed. The only hardware seen would be two hinges and one handle (that goes through the glass; it is on the inside and the outside of the door).
Inline Shower
This will have the door as mentioned above, plus a single panel next to it. This system is used when replacing a tub with a walk in shower, or having a wide shower between two walls. The panel typically only has to wall clips attached that parallel the hinges. Occasionally if the situation is call for, we wil add a clip to the bottom of the panel for additional stability.
Inline Shower with Return Panel
This is when there is a panel that goes 90* back from the front door and panel. Again, we keep the hardware down to a minimum when we install these units.
Unique Frameless Showers
Centex Quality Glass can meet any demand and design being requested. This includes steam shower enclosures, walk in shower panels, shower windows, and even pattern cuts on the glass (arches, "s-shape," etc.). We have even installed a circle shower and a four sided shower that went floor to ceiling. Let Centex Quality Glass take care of your frameless shower needs.
Slider Shower
We can install a slider shower, one with two doors that slide back and forth. Many people remember the old days when the tracks on these type of showers retained the water, making it difficult to clean. Today's designs are not like that, the doors hang on rollers to slide. Now everything can be clean!
Glass and Hardware
Centex Quality has a variety of hardware colors and glass types available to choose from for design. We can help you in the process make those choices, and we provide free estimates to help make sure you are within your budget.
Framed Showers
Centex Quality Glass uses Alumax Shower materials for our framed shower enclosures. We can measure and install shower doors only, inline showers, and inline shower with return panel, and slider shower units. We have Satin Nickel, Brushed Nickel, and Oil Rubbed Bronze Frames to match the rest of your bathroom accessories. We also have a number of glass selections; rain, aquatex, clear, and others for you to choose. Let Centex Quality Glass provide a free estimate for your custom shower.
Contact us for a Free Estimate!