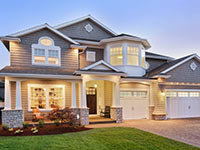 Residential Windows
Centex Quality Glass can repair or replace the glass for a wide variety of windows. These include double pane (insulated glass, IG), energy efficient windows (Low-E), single pane (ssb, dsb), and plate glass windows. Also double hung windows, tilt windows, picture windows, bay windows, sliding windows, casement windows, and other such as door inserts. We also have replaced arched windows, "butt glass windows", and other shapes as required.
We also repair and replace parts to allow the window to operate as expected. Parts such as window balances, window locks, and window handles are some of the type's repairs we make.
Additionally, we also can help with your problem patio doors (sliding glass doors). The door glass, door locks, handles, and patio door rollers can all be replaced to allow the door function properly.
We also install screens, including solar screens, for windows. We will measure your windows and have screen made for you specific window.
So if you have a broken window and need a glass repair or window repair, let Centex Quality Glass take care of you.
More Residential Window Info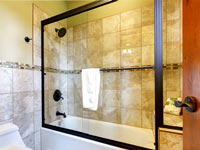 Custom Showers
Centex Quality is a premier shower installer. We are well known for installing frameless showers, using heavy glass (3/8" or 1/2" thick) glass. Frameless showers create a very pleasant look with very little metal being exposed. So if you are doing a bathroom remodel and shower replacement, let Centex Quality Glass do a free estimate for you. Your shower will be made specifically for your needs. Our glass has beveled edges which create a look of elegance. We do not use tracks for installing these types of showers. We can also have the glass treated to help greatly reduce water spotting.
We utilize high quality Alumax Shower parts to create custom framed showers for any shower opening size available. We can install any type of shower based on your budget. We have a selection of framed showers enclosures, including for bathtub sliding doors. We also have a variety of shower door glass to choose from; clear and obscure (Aquatex, Pattern 62, Rain, etc.) that can be built to your specifications.
If you just need a shower repair, Centex Quality Glass will be happy to help you with that as well.
More Custom Shower Info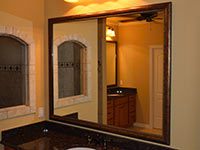 Custom Mirrors
We can provide all of you mirror needs. We can cut basic bathroom mirrors, dressing mirrors, cabinet mirrors, etc. We measure and cut our mirrors out of square to ensure they fit the best where they are being installed. This makes sure that the mirror looks the best as well, particularly if a wall is not very straight.
We also do other custom mirror work such as installing arched mirrors, beveled mirrors, framing the mirror with bevel strips, or bevel wrap, hole cut outs for plugs and lights, mirror plug cover plates, one way mirrors, and even mirrored shower panels. We also can cut and install mirrors in a framed or tiled border that has been installed on the wall. If you have a gym and want a mirror wall, we can do that also!
If you are looking for something more than a standard mirror, we also can build a custom framed mirror for you vanities. We have over 500 different frames to select from and we will measure for whatever width and height you want for you mirror. This is like hanging a large picture frame with a mirror in your bathroom.
More Custom Mirror Info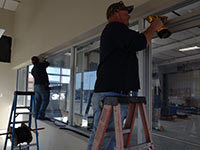 Commercial Storefront
Centex Quality Glass storefront installation is considered in the area as high quality. We are known for favorable pricing, getting in and out, and willing to work around other trades to ensure the most efficient commercial building schedule. We work with CRL US Aluminum, Armalite, Vista Wall, and Columbia Commercial Products storefront systems. We particularly specialize in the small to medium jobs such as restaurants, strip centers, small office buildings, and other similar size jobs. We also work with many other General Contractors on remodels which require repair or replacement of parts with a storefront system.
We also repair storefront doors; door locks, door closures, door pivots, and can perform a full door replacement. But sometimes we discover it may be just a door adjustment that is needed, which saves money for our customers.
We also replace commercial windows; plate glass (1/4") and Insulated Glass (IG) units which are 1" Double Pane windows. Additionally, we replace door lights or door glass. While we do not have an emergency board up service, we do prioritize boarded up door glass replacement.
More Commercial Storefront Info
Misc Glass Servies
We can provide all of your glass needs; from Table Tops to Cabinet Doors. Selections include bronze, smoked, frosted, obscure, seeded, and many others.
We can provide a restoration to your windows, showers, and other glass applications. Scratch Removal is a new service for the Central Texas Area.
Another service we provide is supplying builders with finishing hardware. From door handle sets, door knobs, cabinet knobs and pull, towel bars and hooks, toilet paper holders, etc. We can walk a house and label everything, or just provide what you request.
More Misc Glass Service Info